First, let's choose Foxkeh!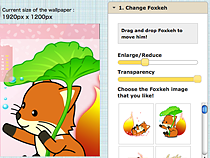 On the default screen, the wallpaper design of the month is displayed. First, let's change Foxkeh. Take a pick from the custom pallet displayed on the right side of the screen. The enlarge/reduce bar makes it easy to change the size of Foxkeh. It is also easy to make it transparent. Click on the Foxkeh on the screen to select, and drag and drop to move it wherever you like it to be.
Now let's change the background!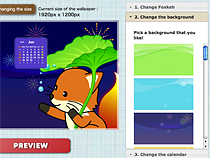 Next step is changing the background. Place the arrow on top of the background over the screen and click to show the various background designs on the custom pallet on the right. Select a background design and click on it to change the background image of the wallpaper.
Personalize the calendar and the size of the Firefox logo!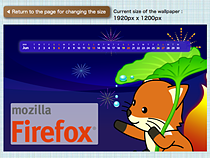 The size and position of the calendar and Firefox logo mark on the desktop wallpaper can be changed freely just by clicking the images!
Let's apply it as a wallpaper!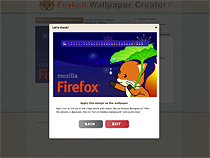 After you create your own wallpaper, check the design by clicking on the PREVIEW button. If you are happy with it, you can apply it as a desktop background as it is. You can also send the image to your mobile phone to use it as a standby wallpaper. For Personas, click WEAR IT in the preview screen and authorize the installation of the theme. This allows you to give Firefox a new look.
More graphics to come!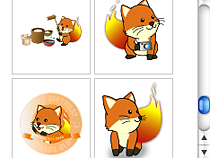 New graphics will be added for Foxkeh's Wallpaper Creator. Stay tuned!